PLEASE note that we will not be expecting a litter until 2020. Thank you for visiting us and getting a dose of virtual wheaten love! I suggest checking our national club site for other reputable breeders at scwtca.org
GCH CH All in the Family (Morgan)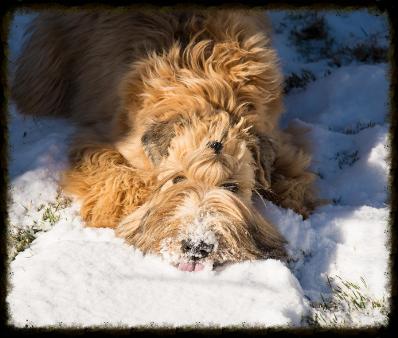 GCH CH Rosheen All That and a Smile (Cashew)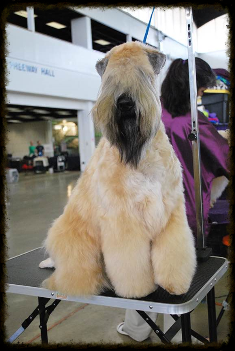 6/22/2017: An ultrasound made it official -- Morgan is "with puppies"! GCH CH Rosheen All That and a Smile (Cashew) and GCH CH All in the Family (Morgan) will have a litter the end of July. It will be a small litter of 2-4 puppies. We are thrilled!
7/30/2017: Two healthy lovely puppies born. Yellow ribbon girl, Hazel, and green ribbon boy, Kellan, are thriving. Diva Morgan has put aside her crown for nappies & is doing a great job as mommy. Both puppies have families preparing their homes for their new blessing.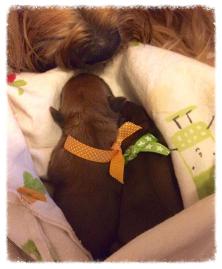 Sylvester (GCH Rosheen Sufferin' Succotash: CA US CH Honeylee's Bye My Fair Whind x CH Acacia's Bat Out O'Hell) and Sophie (CH Blessing Sweet Symmetry: CH Reyem No Squattin' On My Spurs x CH Harmony Sweet Blessing) were bred the first week of March, 2014. We think it was a perfect union and combination of type, health, character and potential!


It is important to note that our puppies come from AKC Champions who have both hip and eye certification, as well as other health testing to help ensure a healthy litter. We would love to chat with you more about your interest in Wheaten Terriers. Please visit our 'for more information' page to contact us about future litters. For serious inquiries, please complete the application below.

Please scroll down below for more puppy pictures and another fun-loving puppy video clip!!